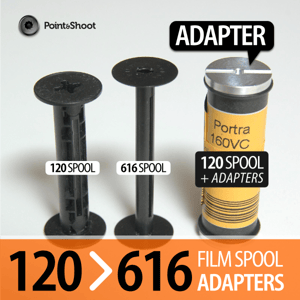 €

45.00
The Adapters are now SOLD OUT!!!
Please contact me if you are interested! A new production run is not planned at the moment, but could be possible in the near future... 2 aluminum adapters that makes it possible to load 120 film into 616 cameras!
These CNC Aluminum adapters let you load normal medium format 120 film in cameras made for the 616 film spools (cameras like old Kodak SIX-16 or Brownie). The 616 film went out of production in 1985 so adapters are need to load other types of film.
These adapters are made one by one with high precision CNC machines. Insert the adapters at the ends of the 120 film spool and make it the same size of the 616 spool.
You will need 4 adapters in order to load the two spool, but you can still purchase only 2 (for the take-up spool). In fact, the take up spool has to be inserted firmly into its place, and the wind-up lever must connect perfectly with the spool. This is why such precise adapters are seggested at least for the take-up spool.
The other spool (the new one with the film on it) can be put in its place with some washers or wall plugs. But we suggest you use the quick and easy adapters for the film spool as well.
After the roll is exposed, just take out the adapters and put them on a new film. Then take the empty spool and use it as take-up spool!
See more pictures of the adapters in action here:
120 to 616 film spool adapters